"
ABB: I, AQUILA BELLATRIX VI BRITANNIA, EMPRESS OF BRITANNIA COMMAND YOU TO DIE!

CPPD Officers: Happily, your highness! (raises gun to head)

"
Geass  is a supernatural ability which certain people can bestow upon others. The Geass manifests differently in each individual, possibly related to their inner desires and personality. The power of Geass increases with use, and should the user lack the willpower, they may be consumed by it. However, people who have Geass are not immune to the Geass effects of others. The Geass is represented by a glowing, bird-shaped symbol.
Every Geass, while powerful, has its own unique set of restrictions, limitations, or idiosyncrasies. These factors allow a Geass to be defeated, or its power limited, by someone who is aware of its characteristics. All Geass abilities are related to the mind, influencing such things as will, thought, memory and perception.
All Geass, regardless of user, appear in only one eye in the initial stages. Eventually, assuming the user lives long enough, the Geass will eventually begin to grow until it shows on both eyes, seemingly as a result of repeated use, or pushing the Geass to exceed its own limits. However, overuse and/or mental instability can lead to an affliction known as "runaway Geass" that causes the user to become unable to control their Geass, making it become permanently active. Most Geass works only on direct contact, with the exception of clear glass and glasses, as they are designed to magnify vision.
Known Users of Geass
Aquila Bellatrix vi Britannia
Aquila's Geass manifests itself as power over all species, representing her versatility. Her Geass also works through glasses, visors, thin sheets of plastic and sunglasses. However, it does not work through thicker obstacles like metal and smoked glass. It is also weaker than other Geass and cannot work for excessive periods of time or follow elaborate commands. Aquila has runaway Geass over her left eye, even though she uses it sparingly. Her runaway Geass has been charmed to have no result most of the time and uses toggled Geass.
Lelouch vi Britannia
Lelouch's Geass manifests itself as "the power of absolute obedience," which allows him to plant commands within a person's mind upon direct eye contact. Lelouch's Geass is quite strong, known for working for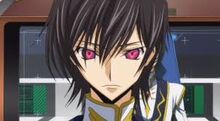 extensive periods of time, but it is not as versatile as Aquila's, only working on humans. It works through clear glass, but not through any other materials. The abilty cannot influence the same person twice in a day. Lelouch has runaway Geass on both his eyes, but it has been charmed to have no result most of the time and uses toggled Geass.
United Geass
"
Lelouch and Aquila: WE, THE EMPEROR AND EMPRESS OF BRITANNIA, COMMAND YOU TO DIE!

Opposing Army: GLADLY, OUR MAJESTIES!

"
United Geass is when two or more Geass users join together and attack together at the same time with the same command at the same target. It is significantly more powerful, with all the users' powers combined together.
Ad blocker interference detected!
Wikia is a free-to-use site that makes money from advertising. We have a modified experience for viewers using ad blockers

Wikia is not accessible if you've made further modifications. Remove the custom ad blocker rule(s) and the page will load as expected.