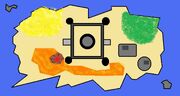 This page is incomplete!
This page is a stub. You can help by expanding it as soon as possible, then removing this tag.

Robot Island is the main location in the mission, Operation: Robot. The agents will have to go here to do some top secret business.
History
2000 years ago, there was an island which had robots who wanted to rule the world. They made plans and schemes until one day, a top secret agency had destroyed the island and the robots on it. The Robber Penguin Agency went here to do an investigation when the mission came.
Ad blocker interference detected!
Wikia is a free-to-use site that makes money from advertising. We have a modified experience for viewers using ad blockers

Wikia is not accessible if you've made further modifications. Remove the custom ad blocker rule(s) and the page will load as expected.