Police Officers
are penguins that keep the island safe. They are members of the 
Club Penguin Police Department
 and are against the 
RPA
.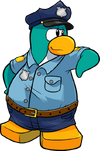 Trivia
They first appeared at the Marvel Superhero Takeover 2012 and later appeared in the Marvel Superhero Takeover 2013.
Only a (former) police officer knows the HQ's location, but that officer now works for the Super Hero Agency.
Police Officers usually use handcuffs to arrest robbers.
Unknowingly, they don't know where the RPA's location is.
They try really hard to find RPA members.
They once were about to capture Agent Black Puffle during his first days. He made his first robbery, stealing a motorcycle to run away. He soon found about the RPA.
Gallery
Ad blocker interference detected!
Wikia is a free-to-use site that makes money from advertising. We have a modified experience for viewers using ad blockers

Wikia is not accessible if you've made further modifications. Remove the custom ad blocker rule(s) and the page will load as expected.