Agent B's Spaceship Hideout
is a spaceship controlled by Agent B. He keeps his secret files, and his money there.
Agent B
monitors
Club Penguin
by flying it above
Club Penguin
. To get in, you must teleport there if you are his friend, or go to it on the map if it is on the map. Or you can get a spaceship and find it. Now the PHD controls it too. Now the RPA does too.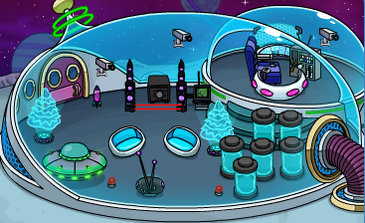 Trivia
It is also Agent B's Secret Base.
Agent Omega X has a similar one.
See also
Ad blocker interference detected!
Wikia is a free-to-use site that makes money from advertising. We have a modified experience for viewers using ad blockers

Wikia is not accessible if you've made further modifications. Remove the custom ad blocker rule(s) and the page will load as expected.