SPA Agent
This article is about someone who is a SPA Agent on Club Penguin.
Meetable Character
This article is about someone who is meetable in Club Penguin.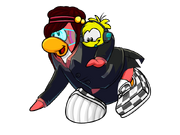 Agent Nugget is an enemy of the
RPA
in
Operation: Frozen
. She isn't a full enemy of the RPA, though. She is close friends with multiple agents in it and is always there to help out.
History
Agent Nugget was first accepted into the SPA on June 24th, 2014. That was when she first started her secret agent work. (though before that, she had been involved in some other agencies such as the PPP and KLA.)
She was invited to join the RPA, though she did not (fully) accept the offer. It didn't exactly
Personality
Agent Nugget is known for her sweet, silly attitude and positive outlook on life. However, she is angered easily whenever someone hurts her or her friends. She's very helpful and kind, making her very popular with other penguins.
Appearence
Normal
In her normal attire, Agent Nugget normally wears a purple hoodie too big for her, a necklace with a music note on it, a large pair of glasses, fuzzy boots, and The Rustic hairstyle.
Agent
In her gear, Agent Nugget wears an alpla suit, black sneakers, an optic headset, and her regular Rustc hairstyle. She often brings her elite puffle, Pastel, with her.
Ad blocker interference detected!
Wikia is a free-to-use site that makes money from advertising. We have a modified experience for viewers using ad blockers

Wikia is not accessible if you've made further modifications. Remove the custom ad blocker rule(s) and the page will load as expected.